If you are a top performer looking for a purposeful career and willing to make an impact, we hope your search has ended. Let's move forward together.
Benefits? No Doubt!
You will spend 40% of your life at work. That is a lot of time, which is why Barnhart understands the importance of balance, benefits, and better opportunities for you and your family.
Benefits
401(k), family health plans, and even pet insurance, Barnhart has one of the best Benefit programs in the industry.
Success Training
Continuous Improvement is a core value at Barnhart. We want to make sure you have the tools and training you need to forge a path of success and advancement in your career.
Purpose
Our goal is to be profitable, but we are deeply committed to using that profit to meet the physical, spiritual, and mental needs of others.
Become a part of
a growing company.
Join Barnhart
and Get More Than A Job
When you come to work at Barnhart, you become a team member in one of the fastest-growing and most successful leaders in the industry. Barnhart has locations from coast-to-coast and has truly built a reputation as one of the best, which is why we are seeking the best, the brightest, and those willing to make an impact. If you are a top performer and want to do more than just "go to work," explore the opportunities we have to offer.
#LifeatBarnhart
Barnhart's philosophy regarding our most important resource, our people, begins with the understanding that all individuals are worthy of dignity and respect. We also believe that hard work is good and valuable. These basic beliefs drive our practices for hiring, training, and developing our employees.
We know that people are ultimately fulfilled when they perform work that utilizes their natural gifts and personal strengths. It is our desire and commitment to help our employees live up to their potential.
Explore Our Culture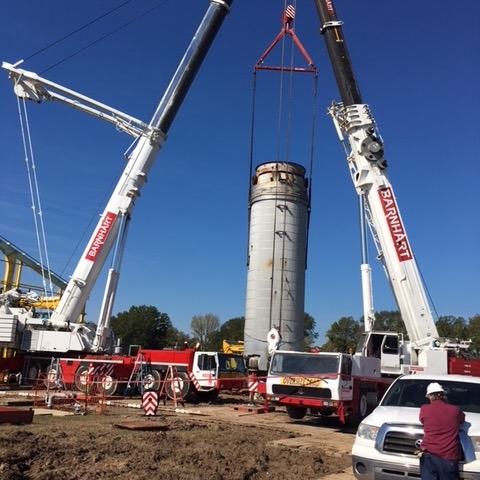 Minds over Matter
Barnhart was founded in 1969 in Memphis, Tennessee, as a small family-owned business. While we are still a family-run company, Barnhart has grown to be one of the largest heavy lift and heavy transport organizations in the United States with more than 50 locations across the country and a nationwide reputation for solving problems. Barnhart provides world-class service through a local presence. Operated crane rental, rigging services, outage planning, specialized solutions for component replacement, industrial storage, and national project cargo logistics all combine to ensure Barnhart's customers receive the lowest total project cost. Barnhart also boasts one of the largest engineering teams in the industry - including a full R&D department - driving innovation across all services.